Senior Spotlight: Austen Long, the Perfect Teammate
Liz Day, Staff Writer
December 12, 2022
Austen Long is in his fourth and final season as a Yellow Jacket on the American International College men's ice hockey team in Springfield, Massachusetts. He is known to his fellow Yellow Jackets as "the most selfless, humble, and caring teammate."
The team is 9-7-3 this season. Long, one of the 2023 season captains, has five points on the season with two of them being assists in a close win over Air Force. Although it was his best game on paper, Long's personal season high was beating Umass at home in a shootout.
The communication major plays right wing and brings a "tough type of game to the ice," he stated. Long tries his best to be a pest on the ice.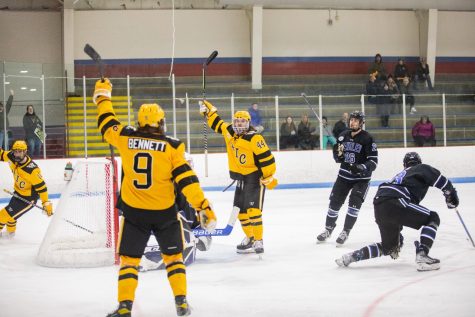 Long has been playing hockey since he could walk, and he has nineteen years of experience under his belt. He explained that he chose AIC because of "the fact that they [AIC] were on the rise," and because of "the culture of the hockey team."
"We are a fast and skilled team," he added. "We can play hard-nose hockey with speed and skill."
Long's goal is to win the Atlantic Hockey conference again and take home the national title. His favorite memories have been "winning the league for the fourth time and going to the North Pole in Alaska… or seeing Niagara Falls at night."
Eric Lang is going on his seventh season as head coach and shared his thoughts on his time coaching Long. "Austen is one of the most courageous second- and third-effort players I've ever coached," Lang said. "Grade A competitor. Infectious personality right from day one. His teammates absolutely love him, respect him, and admire him."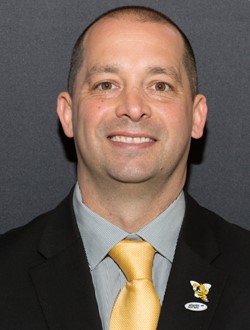 Lang shared his favorite memory of Long. "We jokingly listen to the same music," he said. "G Herbo! I'm kidding, I don't listen to him. But Longer and I have a running joke about this performer. Every once in a while, I will send him a song from his album." Lang continued, "He also started the -iron chest club'–push-ups for guys that need it most. During the pandemic, I think we had twenty guys in there doing 100-200 push-ups a night."
What Lang is going to miss most about the captain is "his personality, competitiveness, and overall drive to make his teammates better. He's a winner. We have won a million games together. It's all he cares about."
Long's teammates hold him in the highest regard, including his co-captain Nico Somerville.
Somerville described Long on the ice as "a hard-nosed hockey player. He isn't afraid to go into a battle. In fact, he wants to go in. He would put his body on the line just to give our team a chance to win a game. He blocks shots, hits, and can score too."
Somerville went on to explain how Long carries himself off the ice. "He is everything you would want out of a teammate," Somerville said. "He is the most selfless, humble, and caring teammate I've ever played with, and I am honored to be alongside him as co-captain. He shows up to the rink every day with a smile on his face and leads the way with his work ethic."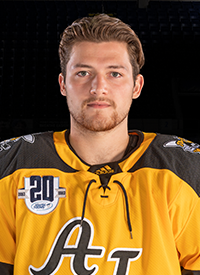 When Somerville was asked about his favorite memory with Long, he admitted that he couldn't "pick just one. I live with Austen, and he is always himself, whether it's at the rink or at home. He always keeps the mood light and it's fun to be around."
Nico also shared what he will miss the most about his co-captain: "His presence on and off the ice. There is never a dull moment with him, and he makes the rink even more enjoyable."
Long describes his time at AIC as "too short. I've had nothing but fun here at AIC and my four years have flown by." What he is going to miss the most is "playing hockey with my AIC family."
Long and his squad play Niagara at MassMutual Center in Springfield, MA on December 8th at 5:05pm.