AIC Welcomes Lou Conte as New Head Football Coach
AIC football has faced a number of struggles in the past few years. When Coach Wilkins ended his historic career, they struggled. AIC immediately found a replacement for Coach Wilkins and reestablished a football program that once had a rich NE-10 tradition. Coach Kulzer was a player at AIC during that successful tenure. He won rings here, so he knew a little about what it took to get the job done. Coach Kulzer began as a defensive coordinator, but he finished his first season as interim head coach. After that, he was hired as the official head coach of AIC football. Before the last game of the 2022 season, due to some NCAA politics following the Yellow Jackets' win over Bentley University, Coach Kulzer left the program.
After that, athletics performed a search for the right football coach for AIC–someone who could help to bring prominence back to the school and to help win some football games. The search went on for some time, leaving a lot of the players here a little worried about their futures. Several football players found their way to the transfer portal. At one point, AIC had fifteen football players from the school in the transfer portal, which was at the top in Division II football transfer portals. A lot of players came back for the spring semester, but a few left and went on to other schools. Some coaches departed as well.
After the search was completed, AIC hired Coach Lou Conte on January 10 as the head football coach for the AIC Yellow Jackets. Coach Conte was at The Citadel University in Charleston, South Carolina, which is a private D1 FCS. He served as the offensive coordinator for six straight seasons at the University of The Citadel. During his time at Citadel, he won the 2016 national rushing title. He went on to consecutive NCAA appearances.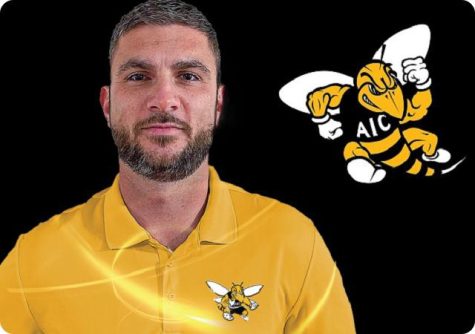 Not only was Coach Conte successful at the D1 level, but he was also successful at a Division-2 school, which is the level he's coaching now. He coached special teams running backs and was a recruiting coordinator at Lenoir-Rhyne University in Hickory, North Carolina. There he won three straight conference championships. He also brought that the team to a national championship game. When Coach Conte was at Lenoir-Rhyne, he finished in the top three for rushing teams in the total nation. He also set an NCAA all-time record for rushing in one season at 5,563 yards.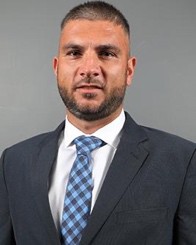 Coach Conte is no stranger to the community of Springfield, Massachusetts. He and his wife are from Western Massachusetts and his father has spent a lot of time around the area due to his football background as well. Conte's sister has also been working at Springfield High School for many years. So, it's safe to say this is a real home-grown guy.
When you're the new coach of a football program, you're asked the same cliché questions repeatedly. I wanted to get slightly personal with the questions, so I asked Coach Conte who he is outside of football, and what his football philosophy is.
This is what he had to say.
"When I'm not working, it's all about family," Coach Conte said. "My wife, Jen, is an amazing mother and I love being around her and my kids. And I can't wait to have them all around my AIC football (and extended) family. I'm the same guy outside of football as I am when I'm coaching. I talk my players the same way I talk to my son and daughter. My philosophy is that I'm responsible to development of character that will contribute positively to our society. I love teaching. This is my calling. It's the only thing I know how to do or ever could do. I also love football. The competition, the comradery, the weight room, the games, recruiting, everything! The fact that football became my vehicle to mold young lives is something I'm forever grateful for. The fact that I get to do it in a place where I grew up, with this group of young men–it's amazing."
I am very excited to see the growth of the football program under Coach Conte's leadership. As always Go Yellow Jackets!